This is a project that I started because I wanted to be notified when a class at Cornell opened up. During Cornell's add-drop period in the fall and spring, if you want to get into a class that is full, you have to constantly refresh the student center page until someone else drops the class and a spot opens up for you. A quick Google search did not reveal any already implemented notification systems. So I decided to try and see if I could set up a notification system for myself. Continue Reading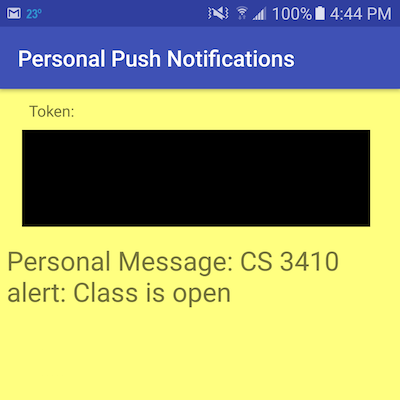 I am currently a sophomore enrolled at Cornell University pursuing a Bachelors degree in Computer Science. I currently have a wide variety of passions in the realm of computer science. I have joined Cornell's Hacking Club and enjoy the pwning and reverse engineering challenges in the CTF's that we participate in. I am pursuing my love for robotics and intelligent systems on the Cornell Cup Robotics Team, where I am one of the members on the computer vision team. I have also greatly enjoyed the projects assigned to me in the various programming classes that I take. I have designed a working pipelined MIPS processor, cooperatively architected a large thread safe critter simulator with a GUI, implemented libc's malloc, and written complex inductive proofs. And that was just my first year. This year I plan to write my own operating system, learn a functional programming language, create a compiler, and learn more about algorithms, data structures and writing good code than I ever thought was possible.
During my Pre-Collegiate years, I took several programming related summer courses, mostly through Northwestern's CTD. That's where I learned how to make web pages with HTML, CSS, and JavaScript and how to create database-backed applications using the Ruby on Rails framework. I also had many software side projects that I worked on, many of which are on display on this site, and I pursued my love for engineering by creating several hardware projects in my high school's engineering club. The most notable example of this was the Square One AIVD challenge, which introduced me to many new technologies and gave me an appreciation for electrical and mechanical engineering. I have a great love for learning and I am always looking to expand my knowledge and learn more about subjects that really interest me, which has led me to some fascinating Massive Open Online Courses (MOOCs).
The first MOOC that I took was Coursera's Machine Learning, course, which was very interesting and has inspired me to study Machine Learning and Artificial Intelligence more in the future. My interest in Machine Learning also led me to another online course titled Synapses, Neurons, and the Brain. I also have learned about Node.js and MongoDB from a server side development course.
In addition to programming, I have also played soccer for over a decade on various teams and I have been doing Taekwondo for several years now. Some of my hobbies include juggling, rock climbing, music, and electronics. I also occasionally dabble in video editing and 3D modeling.